Mark's Locksmith
Emergency Auto/Home Lockout Services
Car Lockouts $50 to $60 total price
Home Lockouts $60 to $70 to pick the first lock.
(No hidden prices or surprises. This is the lowest price you will find.)
Beaverton, Oregon 97003, 97005, 97006, 97007, 97008, 97075, 97076, 97077, 97078
I can rekey locks for Residential and Small Commercial property.
I can unlock cars, homes, businesses, or just about any type of lock.
I can remove your storage lock.
I'm a Licensed, Bonded, Honest, and Insured Locksmith, CCB #: 186343
I have been in business for 15 years!
I'm a Local, Family owned and Operated Mobile Locksmith. I do not have a shop.
Payments I Accept: VISA, MC, AMEX, DISC, Debit, or Cash (sorry, No Checks)
I can unlock over 636 types of vehicles including semi trucks & motorhomes (up to 2020)

Locksmith Near Me | Location



Mark's Locksmith has provided excellent service locally for over 15 years. Mark's Locksmith is family owned and operated and highly recommended by his long-time customers. Services include Auto, Residential and Commercial - Deadbolts Installed, Locks repaired, replaced, and rekeyed. Able to assist you by unlocking your car or home if you lock yourself out. Emergency Service is available. Are you looking for a cheap car lockout service near you? You found it!



Customer's Review
Very nice and respectable guy. Prompt and fast service. I highly recommend using his services if needed.
Toomeys Games
Beaverton, OR
Came right away and completed the job quickly.
Karl S.
Tualatin, OR
I give Mark a double five star rating! I would HIGHLY RECOMMEND HIM! VERY pleasant, VERY fair price for an onsite service call! I had a Deadbolt on a detached garage that I had Mark drill out, and he really helped me out! Give Mark a call!
Morris W.
Lake Oswego, OR
You need Mark's service. If you need help, call him. Best locksmith in Multnomah and Washington county.
Azekiel H.
Beaverton, OR
Our Prices & Customer Service Will Impress You!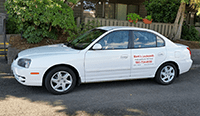 Mark's Locksmith in Beaverton, OR
Car Lockouts $ 50.00 to $ 60.00 flat fee
SW Lombard Ave
Beaverton
,
OR
97008
United States
Hours:
Mon-Sat 10am - 6pm

© 2005-2023 Mark's Locksmith - King City, Oregon - CCB#: 186343 - All rights reserved.
beaverton locksmith in oregon beaverton locksmith